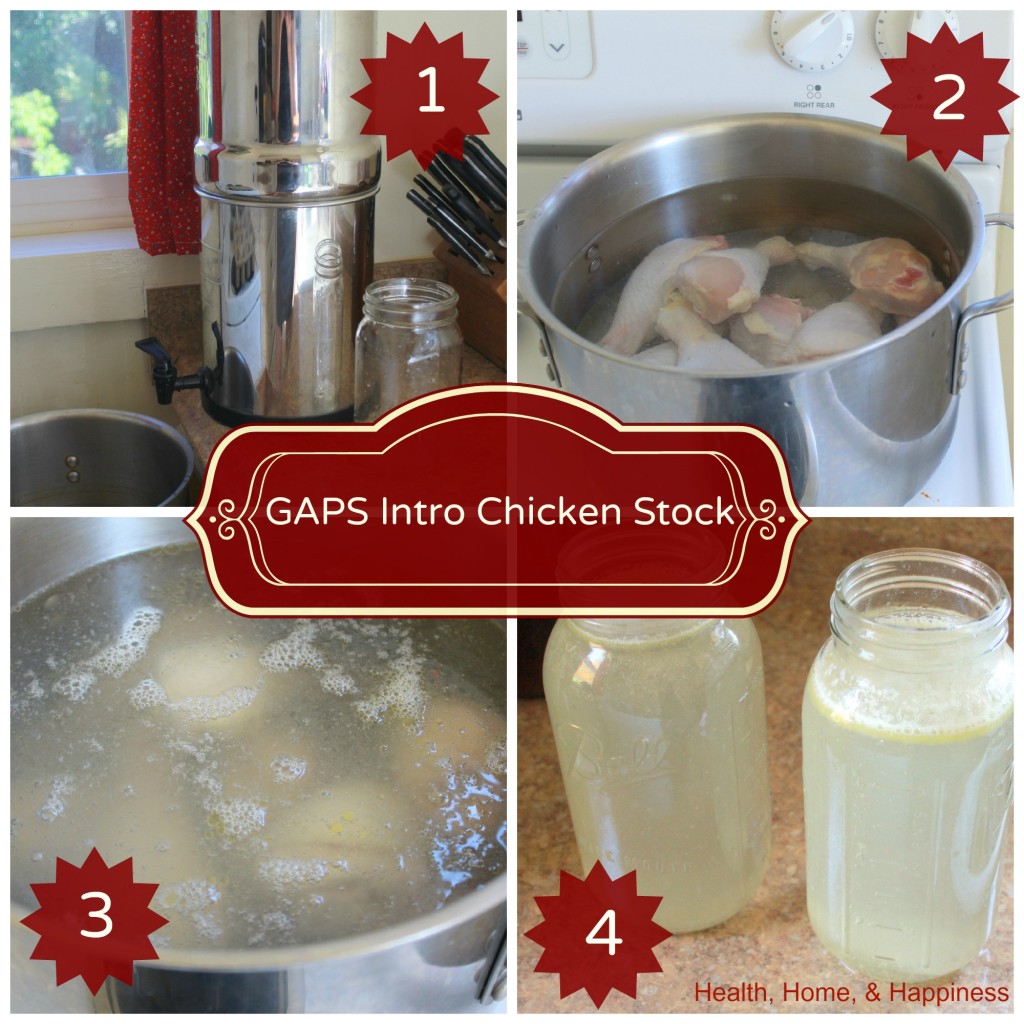 GAPS Intro Chicken stock
This is taken from What Can I Eat Now? 30 Days on the GAPS Introduction Diet Handbook.  GAPS Intro chicken stock is different than stock later on, as you don't brown the bones at all so the stock is pale.  This is to prevent any harder to digest well cooked pieces of chicken from slipping through into the stock.  You can still salt it to taste with sea salt, and broth is recommended to be served with every meal while on Intro.
Equipment: 
click here for berkey water filters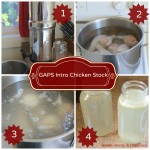 GAPS Intro Chicken Stock in 4 Easy Steps
This stock is simmered for a short amount of time, and made with meat, not just bones, for extra protein.
Print
Ingredients
Whole Chicken or Chicken pieces

thighs, backs, etc
Instructions
Rinse chicken. Reach inside cavity and remove giblet package if using a whole chicken. Remove giblets from package and add to the stock pot. Place chicken in the stockpot.

Fill pot ¾ full with filtered water. Cook on medium-high until bubbling, then reduce heat to low and allow to simmer, covered, at least 8 hours. When done, allow to cool then pour stock through a strainer and transfer to mason jars to store in the fridge.

To strain, I use a mesh strainer over a pitcher-style 4-cup measuring cup. This makes transferring the stock to the mason jars easier; I do one jar at a time, cleaning out the strainer as needed during the process.

Do not discard the soft gelatinous parts around the bones or the skin; reserve that and use an immersion or regular blender to blend it into your stock and soups.

The fat will rise to the top of the jars in the fridge, which can be included in soups or used as a fat for cooking.

Pick any meat off the bones that you can after the chicken stock has been removed, reserve meat to add to soups or serve alongside. Discard the remaining bones in the pot.
Nutrition Facts
GAPS Intro Chicken Stock in 4 Easy Steps
Amount Per Serving (0 g)
Calories 0
% Daily Value*
Total Fat 0g 0%
Cholesterol 0mg 0%
Sodium 0mg 0%
Potassium 0mg 0%
Total Carbohydrates 0g 0%
Protein 0g 0%
* Percent Daily Values are based on a 2000 calorie diet.
5 Delicious Keto FatBombs
Sign up to get my 5 Best Keto Fatbomb Recipes sent right to your inbox! Plus a bonus pizza recipe :)