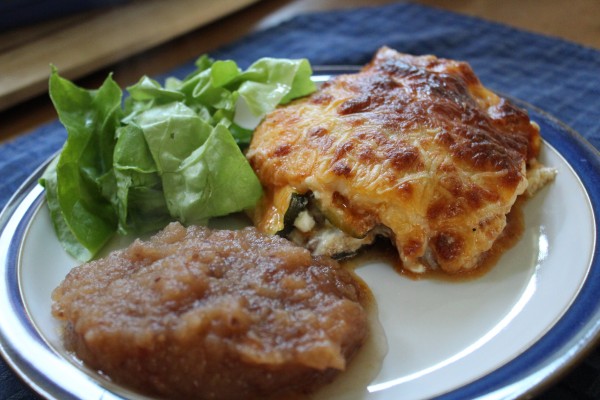 I see evidence on social media of the Gravenstein apples becoming ripe back home, so now is a perfect time to share this easy slow cooker apple sauce (or apple-pear sauce) recipe with you!  Apple sauce is one of the country comfort foods I remember from childhood, but I do things a little differently than mom did.
To make this slow cooker apple sauce, I cut up fruit when I have it, and freeze it.  Then when I want to enjoy the smell and taste of autumn in the country, I just pour the frozen apple pieces in the slow cooker, add a little water and a sprinkle of cinnamon if desired, and let it cook on low all day.
Right before dinner quickly run the immersion blender through it, and it's all ready to serve (above this apple sauce is served with zucchini lasagna) for dinner.
Three is no peeling, there is no reason to heat up the house in August making gallons of this sweet sauce, and you can use a combination of whatever fruit you have- apples of course, but also peaches or pears make a delicious addition.
Special equipment used:
Easy Peel-on Slow Cooker Applesauce
No need to peel- we puree the peels in later for added nutrition and to save work. This slow cooker apple sauce is sure to become a family favorite!
Cuisine:
paleo, gaps diet, gluten free, SCD
Ingredients
5-10 lbs apples
2-5 lbs ripe pears, peaches, or apricots (optional)
½ cup water
Directions
Rinse fruit. I like to scrub the sink, then fill it with water and fill it with fruit, then cover with water. This really loosens any stuck on dirt.
Core apples and pears, remove pits from stone fruit.
Cut into bite-sized chunks (cut apples into about 8 pieces), there is no need to peel.
Fill a slow cooker ¾ full with these chunks of fruit, add ½ cup water.
Turn slow cooker on low and cook, covered, all day (6-10 hours) or until fruit is soft.
Use an immersion blender to puree fruit.
Serve!
*The small chunks of fruit can be frozen in a gallon zip-top bag for up to ~4 months and you can put the frozen fruit directly into the slow cooker, add the water, and cook on low. It may take the longer cooking time when doing this with frozen fruit.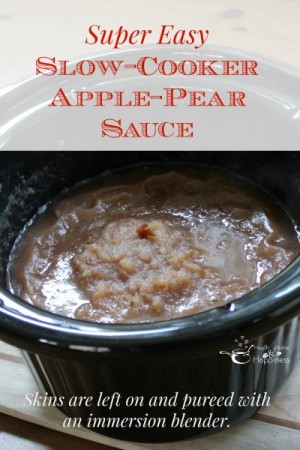 This is a recipe from our Freezer-to-Slow Cooker Cooking Class! Learn more here!
21 Easy and Delicious Grain-Free Meals
Curious about eating grain-free? I want to show you how easy and delicious it can be!
Try our best-selling meal plans... for free!
Just enter your information and I'll email it to you right away.