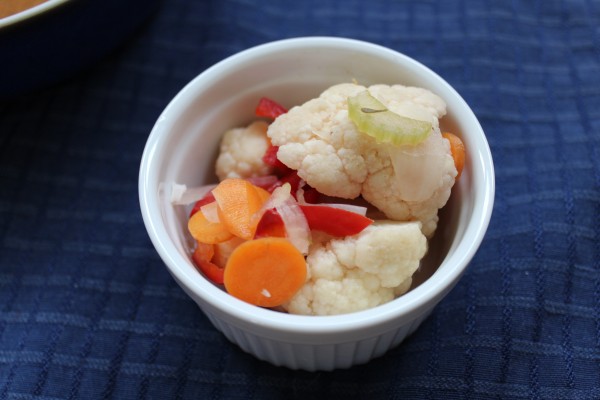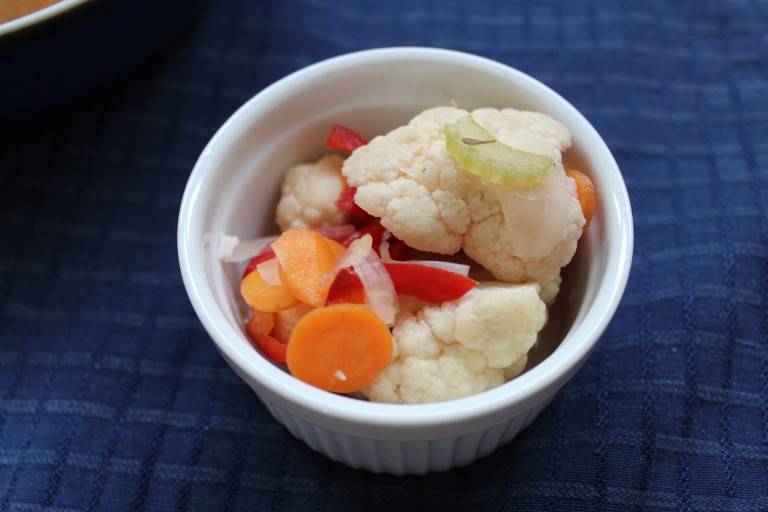 This recipe is fast to put together, and the end result gives a nice splash of color, texture, and huge boost of probiotics to your favorite Italian meal.  Also known as, Giardiniera, serve as a condiment alongside meat, or as part of an antipasta tray along with cheese and salami.
Typical pickled Italian vegetables found on the store shelves are pasturized. When you lacto-ferment at home, this quick recipe will not only preserve your vegetables for months, but it also will be rich in probiotics.  Watch the video below to see the fermentation in action in the form of carbonation!
If this looks too easy to be true- check out this article where I explain exactly how lacto-fermentation works, and how to know if you're culturing the good, not the bad bacteria.

Lactofermented Italian Pickled Vegetables (5 minute recipe)
Giardiniera, or Lacto-fermented Pickled Italian Vegetables, are fast to make at home, and are rich in probiotics, color, and flavor.
Ingredients
1 head cauliflower
1 red bell pepper
1 red, white, or yellow onion
2 carrots
2 stalks celery
10 large garlic cloves
2 jalapeno or Serrano peppers
2 sprigs fresh thyme
Directions
Rinse all produce.
Seed and coarsely chop peppers.
Peel and thinly slice onion.
Slice carrot and celery thinly, cut cauliflower into florets.
Fill quart mason jars to 1 inch below the rim with all vegetables, garlic, and thyme.
Add filtered water to cover vegetables, and top with 1 tablespoon unrefined sea salt.
Screw on Mason jar lids to finger-tight and allow to culture on the counter away from light for 5 days, burping daily as it cultures.
To burp, unscrew the lid and allow any pressure to escape (but do not completely remove the lid or you will risk introducing too many bad bacteria.
Transfer to the fridge.
This recipe is made as part of our Mediterranean cooking day in the Afternoon Cooking Club. Join us for more fun Italian recipes bursting with flavor and nutrition!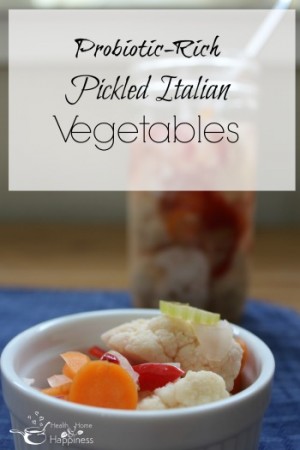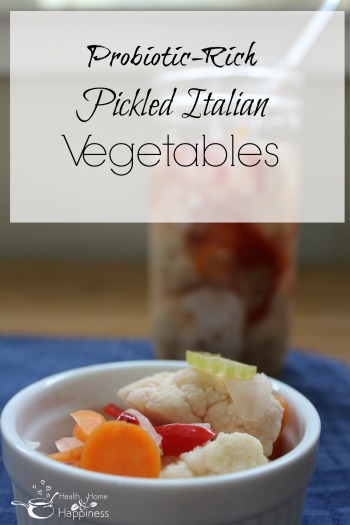 21 Easy and Delicious Grain-Free Meals
Curious about eating grain-free? I want to show you how easy and delicious it can be!
Try our best-selling meal plans... for free!
Just enter your information and I'll email it to you right away.