Ranch dressing is a favorite of nearly every American. As parents and people interested in improving our health, we can use that to our advantage! This carnivore ranch dressing swaps out the seed oils for bacon grease, and adds in a good bump of probiotics with dairy kefir.  Use as many or as little herbs as you'd like, and enjoy this homemade ranch dressing on anything from pork rinds to steak to sausage to eggs.
Bacon & Vitamin D
Did you know that bacon grease (lard) is an important source of vitamin D? Yes, we traditionally used to cook frequently with lard, giving us a much-needed source of vitamin D in the dark winter months. Bacon mayonnaise made into this ranch dressing not only is delicious, but also will boost your mood and health with vitamin D.
Healthy heritage pigs raised outside have higher levels of not only vitamin D, but also omega 3 fatty acids. I like to buy my bacon from ButcherBox, and I always save the grease to cook with and make into this yummy ranch dressing.
References:
https://www.ncbi.nlm.nih.gov/pmc/articles/PMC5685574/ "This study has shown that daily sun exposure for two weeks in pigs prior to slaughter increases the vitamin D content of the loin."
https://www.ncbi.nlm.nih.gov/pmc/articles/PMC7839825/ "What is the natural content of vitamin D in our food? The level of vitamin D in meat, eggs, and milk depends on access to sunlight and ultraviolet B (UVB) light, as well as the amount of vitamin D in the feed for pigs, hens, and cows."
https://www.ncbi.nlm.nih.gov/pmc/articles/PMC9708346/ "The excellent protection offered by omega-3-rich pork lard against hyperlipidemia indicated that pork lard could be used as alternative cooking oil for health-conscious individuals." My note: lol about lard being an 'alternative' cooking oil.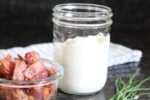 Carnivore Diet Ranch Dressing
This easy ranch dressing tastes better than store-bought! It passes the taste test for even picky kids.
Print
Ingredients
1

cup

Bacon Mayonnaise

60-second recipe HERE

1

tablespoon

dried chives

or 2 tablespoons fresh

1

teaspoon

dried parsley

or 2 teaspoons fresh

2

cloves

garlic

crushed

1/4

white onion

diced (or 1 tablespoon dried onion)

1/4

teaspoon

sea salt

1/2

cup

milk kefir

plain (see easy recipe HERE)
Instructions
Use a fork or immersion blender to stir the chives, parsley, garlic, onion, black pepper, and sea salt into the mayonnaise.

Add kefir to reach desired consistency. Cover and chill at least an hour, it's better the next day.

This keeps for 14 days in the refrigerator with the dairy kefir (the probiotic activity helps keep it fresh). Do not freeze, mayonnaise-based sauces do not hold up well in the freezer.
Nutrition Facts
Carnivore Diet Ranch Dressing
Amount Per Serving (2 tablespoons)
Calories 101
Calories from Fat 99
% Daily Value*
Fat 11g17%
Cholesterol 11mg4%
Sodium 46mg2%
Potassium 3mg0%
Carbohydrates 0.5g0%
Protein 0.2g0%
Vitamin A 18IU0%
Vitamin C 0.2mg0%
Calcium 8mg1%
Iron 0.01mg0%
* Percent Daily Values are based on a 2000 calorie diet.
Do you love sauces?
Want them to be healthy and yummy? Me too!
Here are some more:
Learn how to heal leaky gut
60-page ebook of all my best GAPS Diet (Gut and Psychology Syndrome) articles all in one place.
Please follow and like us: